← Back to portfolio
OPINION | The Absent Conversation about Gun Violence: Grief in Black Communities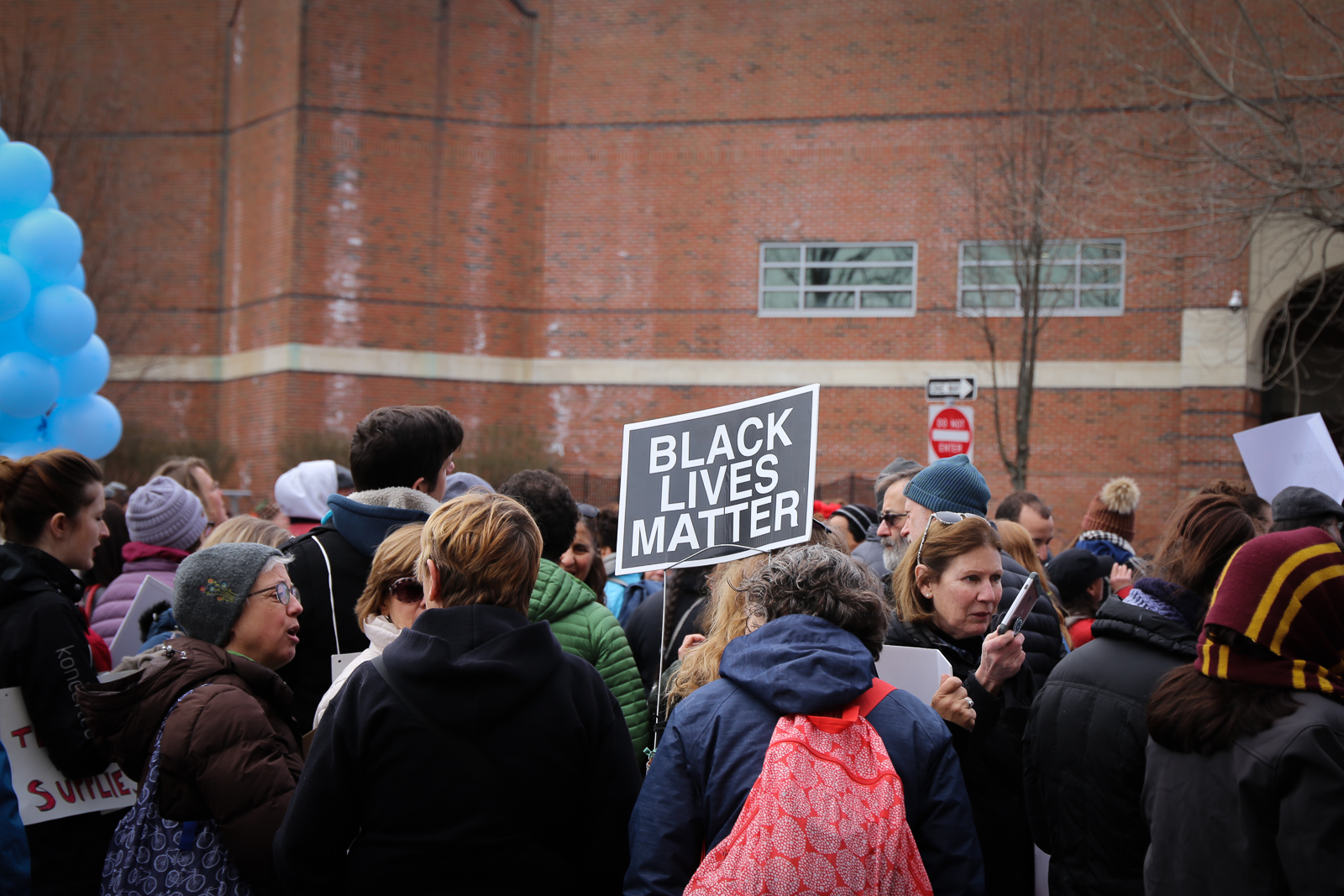 The United States is drowning in the swirl of gun debate. Whether residents are for or against gun control, they came out to speak out their voices during the March for Our Lives movement. While most focus on mass shootings in white communities, those who are most affected by gun violence are invisible to the public. For many black communities, this is a day-to-day reality they have to face in order to survive..
Lawrence Stevenson, a native of the South End of Boston, understands gun violence in his community and how traumatic it is to lose a loved one. His brother was killed in a shooting last November. For him, the pain is really tough. Stevenson is grateful for the help he received from the Peace Institute to bury his brother and to heal. He calls himself a 'homicide survivor."
The death of Stevenson's brother inspired him to move forward and help other families of homicide survivors in his community. He joined the Luis D. Brown Peace Institute, an anti-violence support organization in Dorchester founded by a mother who lost her son to gun violence and became a therapeutic mentor.
"What I've been learning through this process is no matter what we go through, every day is another day to bring my best foot forward," Stevenson said. "I want to bring change by using the fuel of my experience to help."
Stevenson is an outreach worker at the Peace Institute. He assists families  with financial resources, funeral services and mental health services including healing workshops and helps forge survivor-to-survivor connections.
"For me, though, without talking about where to start, it's about holding space for homicide survivors and having the hard conversations about why we are here. You know, that's what's important," Stevenson said.
Although Massachusetts is ranked as one of the safest states in the U.S,  gun violence still occurs here. According to the Boston Police Department's data reported by the Boston Globe, Boston faced 58 homicides in 2017, injuring or killing 258 people in total. While Boston has fewer homicides than other cities similar to its size, Boston has a higher murder rate (8.7 per 100,000 people) than New York City (3.3 per 100,000) and Los Angeles (6.8 per 100,000); in Boston, most homicides occured in Roxbury, Mattapan, and Dorchester, where many African-Americans live.
Homicides have become more common in Stevenson's community. What he experienced is only a facet of life in many black communities in the United States. Black Americans are eight times more likely to be killed than white Americans, though African Americans only make up 14 percent of this country's population; and an African American who lives in an urban area is about 500 times more likely to be killed by daily gun violence than by terrorism. However, gun violence in black communities is almost absent in the national gun debate.
"Right now, the conversation [in this country] is [mainly] on violence in schools and mass shootings and they don't talk much about what's happening in our communities," Stevenson said.
While the country focuses on addressing mass shootings, only a few people notice that the average toll of black victims of gun violence far exceeds that of the Parkland shooting. According to FBI's data, in 2016, there were 11,004 people killed by firearms, and 7,105 of them are killed by handguns, which account for 65 percent of total firearm deaths. According to a 2015 study by Violence Policy Center, 86 percent of black homicide victims were killed with guns. And most gun deaths are caused by handguns rather than assault weapons.
Research by Michael Sigel, a professor at Boston University's  School of Public Health shows there is strong correlation between gun ownership and homicide rates at the state level. However, in African American communities, there is no such correlation, since most of these homicides were caused by illegal guns.
"Laws that reduce the overall prevalence of firearms might be expected to reduce homicide rates among white Americans but may not be as effective in reducing homicide rates among African Americans," Sigel concluded.
In Stevenson's community, the families of shooting victims, but also the families of shooters need help. Sometimes, surviving families turn grief into hatred and seek revenge on those who have hurt their family.
Stevenson wants to prevent people affected by gun violence from retaliating against each other.
"If you can really hold people in their grief and give them resources to grieve and deal with their definitely loved ones in a healthy way, there will be less mental health issues," Stevenson said. "If you teach people forgiveness, there will be less desire to retaliate."
He teaches people affected by gun violence to talk about their grief and trauma with each other and reconcile the relationship between shooting survivors and perpetrators, which he says  is the key to the peace of the whole community. Persuading survivors to give up hatred towards the perpetrators is hard but Stevenson is confident.
"If you lead with love, if you lead with compassion, it opens the door for other people to do that as well," Stevenson said.
African Americans are 2.5 times more likely to experience prolonged grief than their white counterparts, according to a study published on National Center for Biotechnology Information. Besides, on average, it is estimated that seven to ten family members, friends, coworkers and neighbors are left behind by every single victim and have to bear the grief.
Stevenson believes the cycle of violence comes from the long history of America's racial oppression.
"This country was founded on the idea that the lives of some groups of people don't matter. The lives of black and brown people in this country did not matter," he said. "When these issues were just happening in black communities, history tells us that white people didn't care about the issues."
While the vast majority of gun policy research did not distinguish the victims of different races, Tanya L. Sharpe, an associate professor at the University of Maryland  School of Social Work, has been studying the ripple effects of homicides in black communities and the strategies for coping with grief.
Sharpe said African Americans are facing permanent structural racism, including unequal education, poor housing, unemployment, and police brutality that contribute to the cultural trauma in these communities.
"Because of racism and structural inequality, many individuals feel automatically that their loved one was killed as a result of illegal drug activities and gang violence," Sharpe said.
The Violence Policy Center's data shows that only 16 percent of homicides with black victims were gun related and 70 percent were not related to the commission of any other felony.
Sharpe said African Americans don't share their personal stories outside their families and conceal their emotions because of stigmatization. She said they feel a lack of justice when the murder is not resolved, the perpetrator  is not caught or when their interactions with the law enforcement aren't pleasant.
"Think about the experience of racism and oppression, coupled with the idea of a lack of justice. There's a lot of anger and disappointment in systems that do not protect them," Sharpe said.
Sharpe has partnered with local communities to design and evaluate mental service programs to help African Americans cope with trauma.
She found the most effective coping strategies are to provide individual and group counseling, which fully embraces black experiences and has candid conversations about structural racism and violence. She said these coping strategies should be incorporated into mental health services so care providers can build trust with survivors and engage with them.
The inability of newsrooms to capture all aspects of black communities has contributed to the racism in American society, and a full portrait of the communities of color is needed to address the systematic racism, according to journalists and media executives at "In True Color" panel discussion held at the downtown Boston Public Library in April.
"The criticism of the coverage of people of color is that we only cover them when bad things happened. We only go to Mattapan when there's a crime. The rest of Boston thinks Mattapan is crime-driven. But Mattapan is more than just crime or homicides," said Shirley Leung, a Boston Globe columnist while on the panel.
The whole country gets into hot debate on gun legislation to address violence in general but not the disproportionately high gun violence rates in black communities. Stevenson said, "Thinking about ways you can get guns out of people's hands, policy level is part of it [the solution], but also how we're creating peace in our own lives. If all lives are valued, guns won't be an issue in my eyes."